Upcoming Degree Class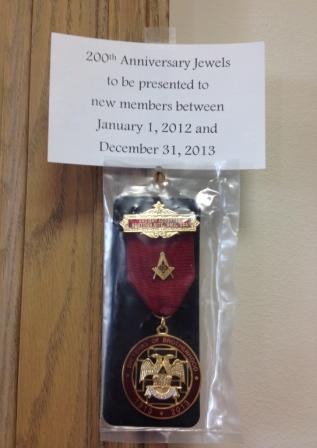 Our next degree class will be on Saturday, October 27, 2012 at the Boston Masonic Building. It will be a full day event where we will be performing the 4º, 10º, 16º, 18º, 31º and 32º degrees.
New Members of any Valley in the Northern Masonic Jurisdiction will receive a 200th Anniversary Jewel (pictured right) if they join in this class!
Registration begins at 6:30am in the lobby of the Boston Masonic Building. At 8:00am, we will begin the program in Gothic Hall. A buffet luncheon will be served in the John Warren Room from 11:30am-12:30pm.
At the conclusion of the work for the afternoon, a collation and social period will be held in the John Warren Room of the Boston Masonic Building for those in attendance.

Do you have a Blue Lodge Brother who is not a Scottish Rite Mason? Now is a great time to start him this great journey. Don't let him miss out on this opportunity to become a 32º Scottish Rite Mason in just one day!
Don't let not having any applications to hand out be an excuse, visit the download page and you will be able to access and print out as many as you need! A copy of the Fall Degree notice that was mailed to all Valley members is available there as well.